Drive System SD2 by SIEB & MEYER with Integrated Safety Functions
Press releases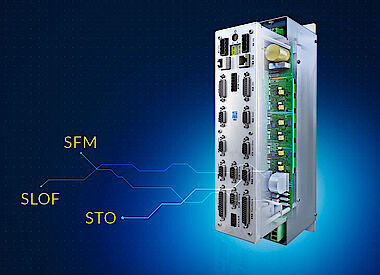 Safe operation of machine tools without speed sensor
Operators of machining centers and machine tools are at risk, especially from rotating tools when rotating axes are involved. A guideline that is binding for machine manufacturers regulates the appropriate measures regarding operational and occupational safety. SIEB & MEYER provides the mechanical engineers with two sensorless safety functions, SFM and SLOF. These are implemented in the drive system SD2 and can monitor both the rotating field and the standstill. The outcome is a functional as well as cost-effective solution.
"The challenge for the machine manufacturer is implementing the two aspects personal safety and productivity at the same time and in the best possible way as well as in compliance with the standards," explained Markus Finselberger, key account manager drive technology at SIEB & MEYER. "Typical safety solutions for motors and spindles require safe speed sensors in order to determine and prevent dangerous operational states." These speed sensors in turn are evaluated by special safety components. Both components use up space in the machine or switch cabinet, pose a risk of failure and they must be installed, maintained and, last but not least, paid for.
The TÜV certified safety functions of the drive system SD2 by SIEB & MEYER can eliminate the need for additional speed sensors at the spindles because they come with the integrated safety functions Safe Frequency Monitor (SFM) and Safe Limited Output Frequency (SLOF). By means of the safety function SFM, SD2 can detect whether or not the speed of a sensorless spindle has reached standstill or dropped below a safe speed value after switch-off. As long as this is not the case, a protective door, for example, remains closed. The safety function SFM measures the rotating field of the motor and hence, enables a precise assessment of the mechanical rotating field. The speeds or rotating field frequencies defined as safe result from the risk assessment of the machine carried out in accordance with the Machinery Directive.
Avoiding critical speeds
SLOF ensures that critical speeds are not exceeded. This can protect persons and equipment as, for example, a tool could break due to overspeed. For this purpose, the function determines the current rotating field frequency generated by the frequency converter and compares it with the parameterized limit value. If the limit value is exceeded, the output stage is disabled via the function STO. The system stops generating torque and thus acceleration so that the spindle coasts down.
Last but not least, a load indicator is integrated in all frequency converters and servo amplifiers of the series SD2x and SD4x. The indicator evaluates the torque-forming current of the motor and therefore can be used to replace acoustic emission sensors. Hence, load changes of the motor are determined very precisely. This in turn allows drawing conclusions on possible tool breakage or tool wear.