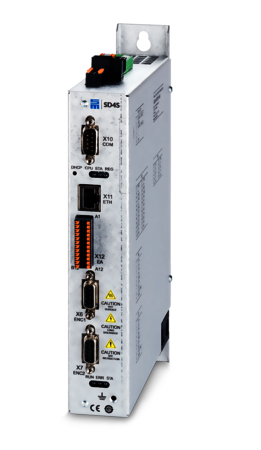 The product version SD4S - S for Stand-alone - is the first device of the new product series SD4x. The SD4S devices are designed for stationary use in control cabinets of machine tools, turbo compressors and turbo blowers.
FUNCTION • ADVANTAGE • BENEFIT
PWM FREQUENCIES UP TO 32 kHz
Function: The SD4S provides PWM frequencies up to 32 kHz and commutation frequencies up to 64 kHz.

Advantage: Higher rotating field frequencies up to 6,000 Hz and lower harmonic frequency components.

Benefit: Realization of higher pole motor designs and lower motor losses.
MOTOR ANALYZER
Function: Simulation of the operating points and FFT analysis with THDi and THDu calculation.

Advantage: Analysis of system performance already at the start of development.

Benefit: Reduction of development time, costs and risk as well as optimization of the overall system.
GALVANICALLY ISOLATED THERMAL CONTACT INPUT
Function: The input for the thermal contact is galvanically isolated from the logic and main voltage.

Advantage: Safe operation even in case of an insulation problem of the thermal contact in the motor.

Benefit: Protection of the inverter in the event of a fault and higher system availability.
BETTER PERFORMANCE AND NEW CONTROL FUNCTIONS
The first available unit type is designed for small high-speed spindles or motors in the power range from a few hundred watts to 1 kW. Application areas are e.g. dental milling machines or machines for super finishing as those required in watchmaking. Since small spindles do not come with a sufficient insulation resistance in the motors, SD4S now features a galvanic isolation of the thermal contact.
An absolute novelty is the design width of 40 mm only. Particularly in applications with many axes and a low performance, the demand for highly compact drive systems is great. Thus, the construction volume has been further reduced. The parameterization is realized via a default Ethernet interface that replaces the USB interface, which in industrial environments is prone to failure.
Moreover, SD4S comes with programmable digital measuring system interfaces such as Biss-C, EnDat2.2 and TTL. Via a Webserver, technicians can display device information without the need of additional parameterization software. Thanks to the real-time clock, a time synchronization of an incident is possible: Users can figure out whether a failure has been caused for example by a thunderstorm.
The optimized performance, higher speeds as well as the lower motor heating without sine-wave filter are substantial advantages of SD4S.
SD4S - ALWAYS THE PERFECT DRIVE FUNCTION FOR YOUR APPLICATION
PSM: (Permanently excited synchronous motor), IPM (Interior Synchronous Permanent Magnet Motor), ASYN: (Asynchronous motor) SVC: (Sensorless vector control), Servo: (Servo mode with encoder feedback), V/f-PWM: (Sensorless V/f characteristic control based on pulse width modulation), HS-Block: (Block control with Hall elements)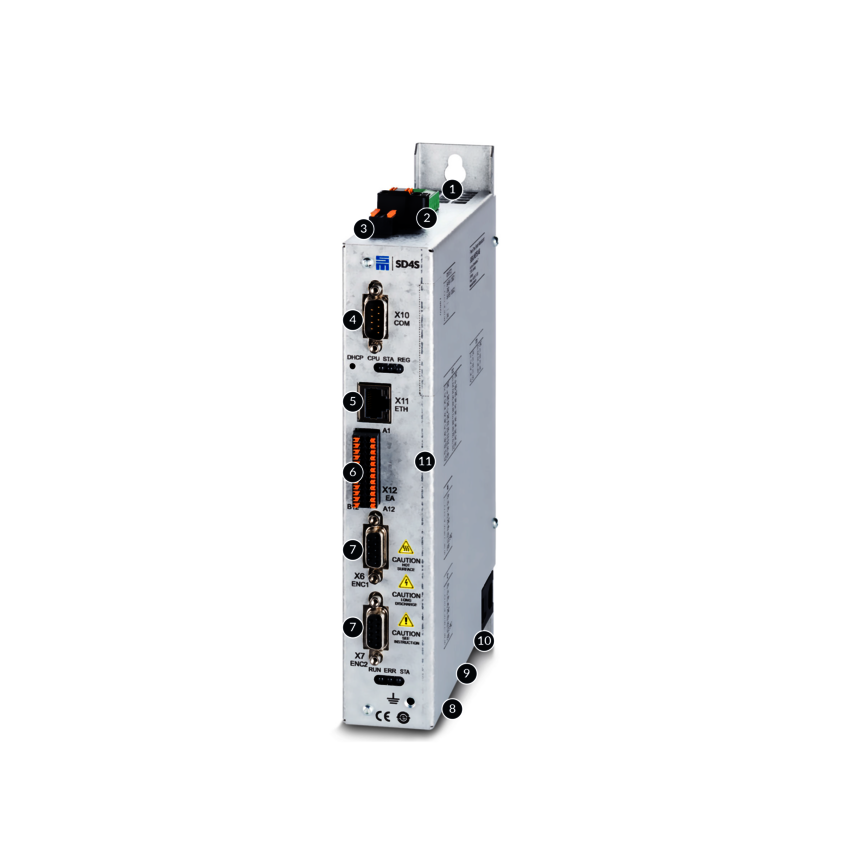 THE INTERFACES OF FREQUENCY CONVERTER SD4S
Supply voltage / external ballast resistor
24 VDC logic power supply
Safety integrated "STO": Restart lock to meet category 4/PL e according to EN ISO 13849 1:2015 and EN 61508:2010 SIL3
RS232/485, CAN interface
Ethernet 100 MBit, parameterization, diagnosis and operation
Digital inputs and outputs
Digital

motor

encoder

interface (

BiSS C, EnDat 2.2, TTL)
Optional: EtherCAT, Profinet, Powerlink
Galvanically isolated thermal contact
Motor connection
Analog

motor

encoder

interface

(Resolver, SinCos 1 Vss)
DRIVE FUNCTIONS AND SAFETY FUNCTIONS