Frequency Converter SD2S-FPAM
Highest speeds, lowest motor heating and best control performance – always in real time: The technical basis is the controlled intermediate DC circuit combined with the established pulse-amplitude modulation (PAM) which allows SD2S doing without additional motor chokes even at high speeds.
Based on this technology SIEB & MEYER developed two extremely robust and sensorless control methods: V/f-PAM for asynchronous motors and FPAM for synchronous motors. The usually very special applications in this area require close coordination between the user and SIEB & MEYER. Applications with a large variance of engine types (such as engine test stations) are rather unsuitable.
Output Frequencies up to 8,000 Hz
Function: Established PAM technology with optimized dynamic characteristics, efficiency and flexibility.

Advantage: Virtually no speed limitation combined with optimized control dynamics and excellent system efficiency.

Benefit: Low initial costs, possibility to access new applications.
Sensorless Control of Synchronous and Asynchronous Motors
Function: The control of synchronous motors (FPAM) is based on the accurate EMF measurement in accordance to the rotor position. For asynchronous motors the well-proven drive function V/f-PWM is used.

Advantage: Cost-intensive speed sensors are not required. Flexible switching from synchronous to asynchronous motors is possible.

Benefit: Cost savings, easy initial operation.
No Need of Motor Chokes or LC-Filters
Function: The PAM technology allows smallest switching frequencies and reduces the electric stress of the motor as well as interferences (EMC) significantly.

Advantage: Additional filter elements or motor chokes are not required.

Benefit: Low system costs, easy initial operation.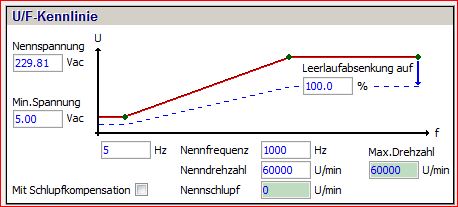 The Fast One
The existing standard SD2S-FPAM devices are also used as technical basis for customized devices. This way, the customer obtains an optimal solution that is individually adapted to the specific application.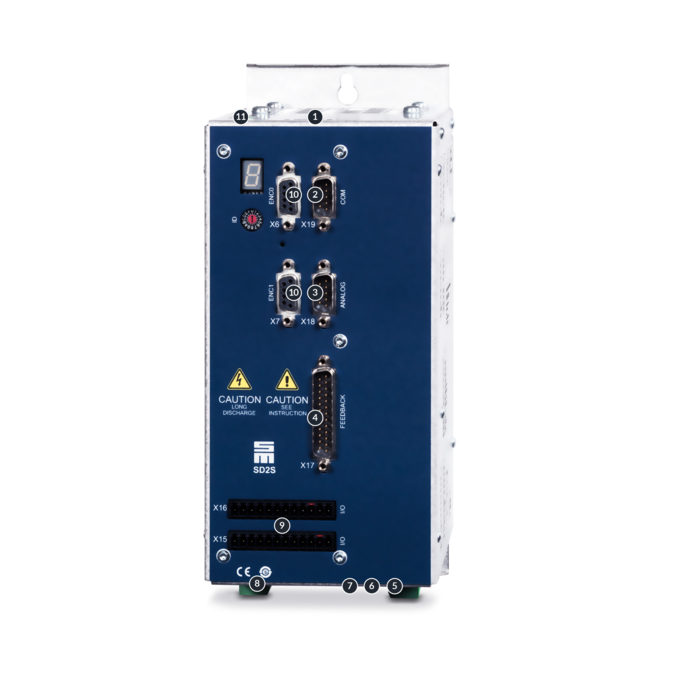 The Interfaces of Frequency Converter SD2S-FPAM
USB connection, parameterization, diagnosis and operation
RS232 / CAN interface
2 analog reference value interfaces: +/-10 V;
2 analog outputs: 0 - 10 V
Universal motor encoder interface:
Hall sensor, linear Hall sensor, magnetoresistive sensor, NAMUR sensor (pulse generator), Sin/Cos encoder
Motor connection
Optional: EtherCAT (CoE)
SERVOLINK 4 via optical fiber PROFIBUS adapter
Power supply
9 digital inputs and 5 digital outputs
2 TTL encoder inputs and outputs
Safety Intergrated "STO": Restart lock to meet category 4/PL e according to EN ISO 13849-1:2015 and EN 61508:2010 SIL

PROFIBUS and PROFINET via gateway
Drive Functions and Safety Functions
Software for Initial Operation and Parameterization: drivemaster2
The oscilloscope function allows optimization of the axes in the machine via the drive-setup-tool without additional measuring equipment.
The clear design of the software allows intuitive parameterization via graphics and block diagrams. The "Parameter-Wizard" guides the user step-by-step through the system configuration and allows intuitive setup of the device via help messages and comments.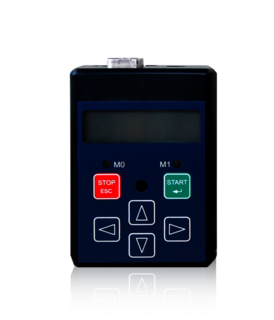 Operation Unit (optional)
LCD status display for the indication of operating data:
Parameters
Reference / actual speed
Load display
Active spindle
Error messages

LED status displays for:
Ready for operation
Load message
Technical Specifications of Frequency Converter SD2S-FPAM
Device type
Rated power1
Rated current
Peak current/time
Max. output voltage1
HxWxD (mm)
Weight
Cooling
Compact devices - 1 x 110...230 VAC mains voltage
0362X42DC
1.5 kVA
10 Arms
14 Arms/2 s
3 x 200 VAC
280 x 75 x 230
3 kg
Air
Compact devices - 1(3) x 110...230 VAC mains voltage
0362X42EC
3.8 kVA
10 Arms
28 Arms/2 s
3 x 200 VAC
253 x 104 x 188
4 kg
Air

X = 1: CAN bus
X = 2: EtherCAT and CAN Bus
1) Rated power and max. output voltage for mains voltage/supply voltage (in italic)