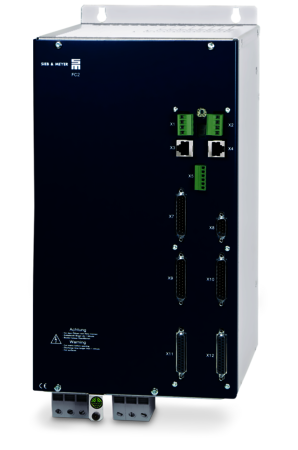 The FC2 offers the possibility to drive up to eight asynchronous high-speed spindles at the same time. The device topology with the controlled DC link and the PAM modulation allows to drive asynchronous motors up to a rotating field frequency of 8,333 Hz (500,000 rpm) without encoder and without motor chokes. The output voltage of max. 3 x 230 VAC is optimized for the high-speed spindles used in PCB drilling and milling. By means of parameter switching/spindle selection, the converter parameters are automatically adjusted depending on the selected spindles. In order to reduce the number of external components, the FC2 offers the possibility of evaluating up to eight speed and temperature sensors.
Output Frequencies up to 8,333 Hz
Function: Established PAM technology with optimized dynamic characteristics, efficiency and flexibility

Advantage: Virtually no speed limitation combined with optimized control dynamics and excellent system efficiency

Benefit: Low initial costs, possibility to access new applications
Multi-spindle operation of up to eight asynchronous spindles
Function: Parallel operation of up to 8 asynchronous spindles and evaluation of speed encoders and temperature sensors

Advantage: Only one frequency converter needed and no external components for evaluation

Benefit: Cost and space savings, easy parameterization
No Need of Motor Chokes or LC-Filters
Function: The PAM technology allows smallest switching frequencies and reduces the isolation stress of the motor as well as interferences (EMC) significantly.

Advantage: Additional filter elements or motor chokes are not required.

Benefit: Low system costs, easy initial operation.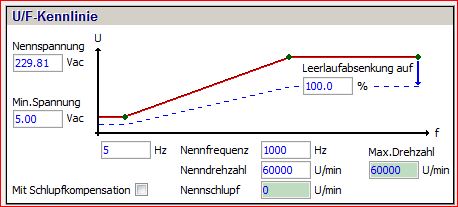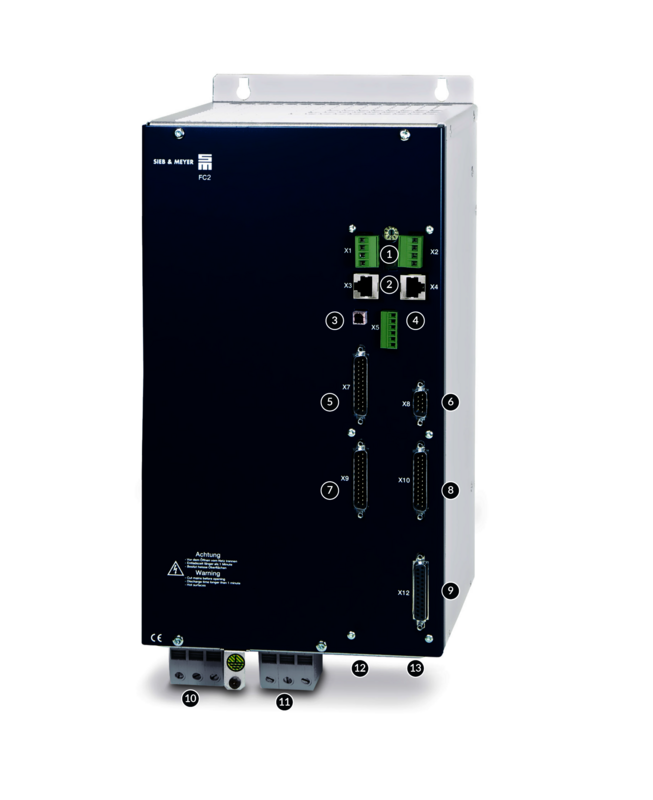 The Interfaces of Frequency Converter FC2
24 VDC logic supply
RS232- /485- / CAN Bus interface
USB connection, parameterization, diagnosis
Safety Intergrated "STO": Restart lock to meet category 4/PL e according to EN ISO 13849-1:2015 and EN 61508:2010 SIL
Spindle selection - inputs
2 analog reference value interfaces: +/-10 V; 2 analog outputs: 0 - 10 V
Spindle selection - ouputs
5 digital inputs and 6 digital outputs
Motor encoder interface: 8 x magnetoresistive sensor, motor temperature sensor
Power supply
Motor connection
EtherCAT (CoE)
SERVOLINK 4
Drive functions and safety functions
Software for initial operation and parameterization: drivemaster2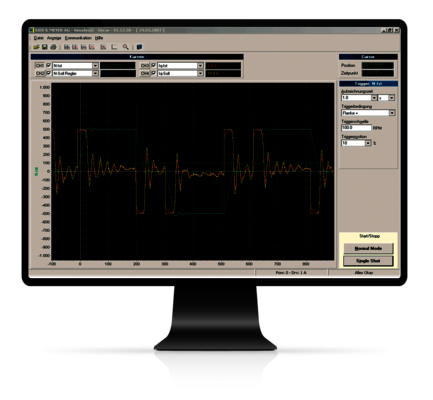 The oscilloscope function allows optimization of the motors in the machine via the drive-setup-tool without additional measuring equipment.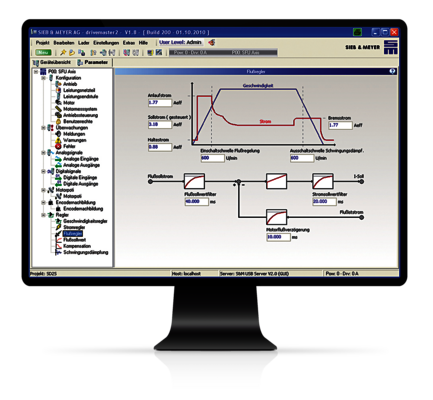 The clear design of the software allows intuitive parameterization via graphics and block diagrams. The "Parameter-Wizard" guides the user step-by-step through the system configuration and allows intuitive setup of the device via help messages and comments.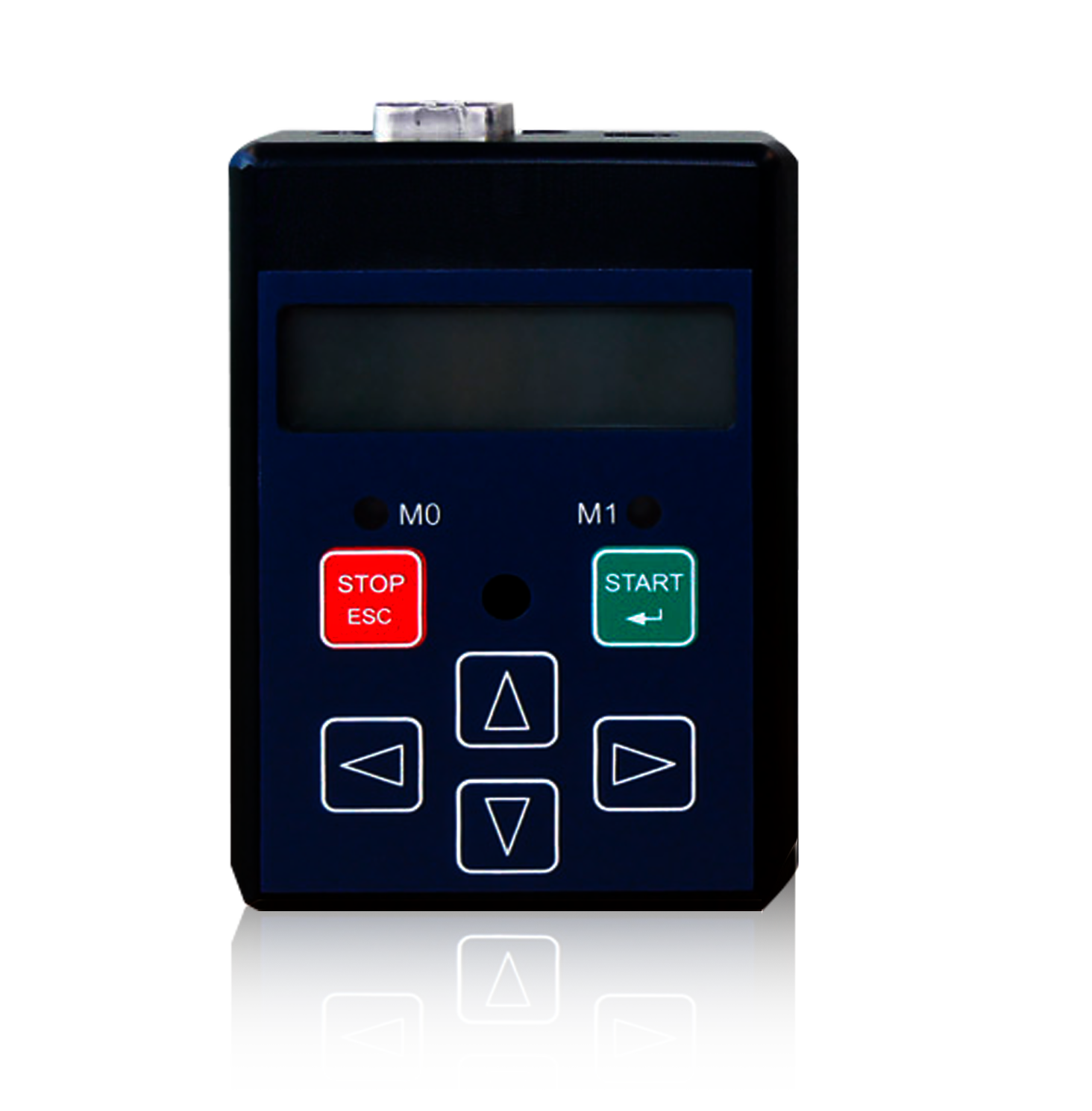 Operation Unit (optional)
LCD status display for the indication of operating data:
Parameters
Reference / actual speed
Load display
Active spindle
Error messages

LED status displays for:
Ready for operation
Key panel for operation, spindle selection and parameterization
Technical Specifications of Frequency Converter FC2
Device type
Rated power1
Rated current
Peak current/time
Max. output voltage1
HxWxD (mm)
Weight
Cooling
Compact devices - 3 x 200...480 VAC mains voltage
0219x100IF
13 kVA
33.6 Arms
50.4 Arms/15 s
3 x 220 VAC
389 x 208 x 226
12.8 kg
Air

X = 1: CAN bus
X = 2: EtherCAT and CAN Bus
1) Rated power and max. output voltage for mains voltage/supply voltage (in italic)