The optimal products for your handling technology
In the field of handling technology, servo amplifiers are often used to realize manufacturing processes with the know-how focused on the positioning profile and the evaluation of process values. With the servo amplifiers of series SD2S and SD4S, SIEB & MEYER provides powerful solutions for the customers.
Devices service
Power range
Input voltage
Communication
Feedback system
Operating mode
Safety functions
SD2S
1.5 .. 55 kVA
115 .. 480 VAC
CANBus, RS232, EtherCAT, weitere über Gateway
CANBus, RS232, EtherCAT, PROFIBUS and PROFINET via gateway
Hall sensor, linear Hall sensor, magnetoresistive sensor, NAMUR Sensor (pulse generator), Sin/Cos encoder, resolver, TTL
STO
SD4S
0.8 .. 66 kVA
RS232/485, CAN, CANopen, Modbus RTU, Powerlink, optional: EtherCAT
Biss-C, EnDat 2.2, TTL, Hallgeber, optional: resolver, SinCos 1 Vss
In preparation: positioning
STO
Customized

Benefit from our longtime know-how!
From the project planning phase to serial production – you get everything from a single source at fast, adjustable and economically viable conditions.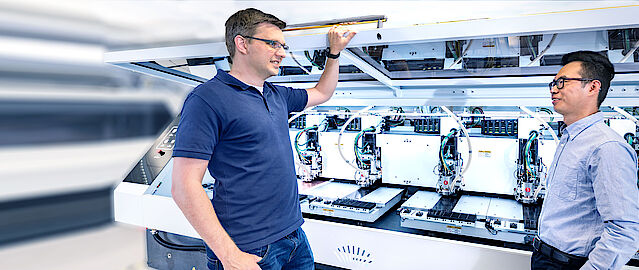 Products precisely tailored for your application
With our experience from customized drive systems that are meanwhile produced in large series and as well as our standard devices, we are supporting you from the project planning phase to the series production.