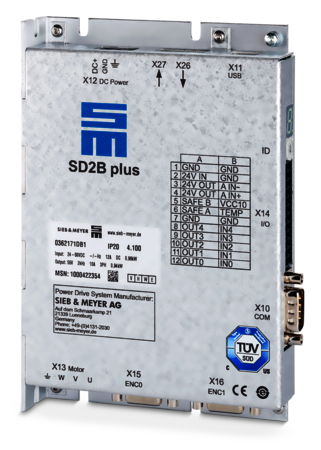 Frequency Converter SD2B plus
The frequency converter SD2B plus allows sensorless operation of low-voltage asynchronous and synchronous motors with speeds up to 120,000 rpm, as well as control with TTL encoders.
Due to this motors can be operated speed-controlled and torque-controlled even from speed zero. The safety function "Safe Torque Off" (STO) is integrated as standard in the device to allow low-cost realization of the steadily increasing demands towards machine safety.
The NRTL/CSA certified devices are easily integrated into systems for the US market with no additional approvals needed.
Master-Slave-Operation
Function: Synchronization of several SD2B plus via TTL encoder inputs and outputs.

Advantage: Autarkic high-precision synchronization of several SD2B plus frequency converters without external control components.

Benefit: Lower system costs.
Integrated Logic Voltage Supply
Function: NRTL/CSA certified.

Advantage: Easier integration into machines for the North American market.

Benefit: Lower costs, as no additional approvals are necessary.
Parameterization via USB
Function: Logic voltage supply via USB interface.

Advantage: Parameterization of SD2B plus without connected voltage supply is possible via the USB interface, which allows pre-configuration of devices outside the machine.

Benefit: Lower system costs.
The Space Marvel
The IP20 housing of SD2B plus convinces with its reduced construction height of only 25 mm. This special compact design allows easy and flexible integration of the device.
Besides two TTL encoder inputs and outputs SD2B plus provides five digital inputs and outputs each, analog reference value setting as well as a USB interface for easy parameterization.
The serial bus connections CAN and RS232 are integrated as standard and allow realization of all control processes.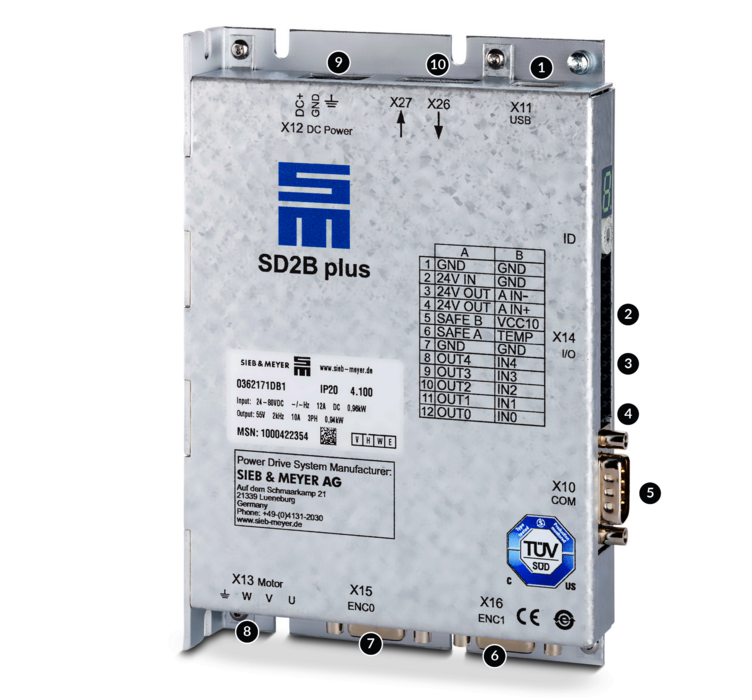 The Interfaces of Frequency Converter SD2B plus
USB connection, parameterization, diagnosis and operation
Analog reference interface +/-10 V
Safety integrated "STO": Restart lock to meet category 4/PL e according to EN ISO 13849-1:2015 and EN 61508:2010 SIL3
5 digital inputs and 5 digital outputs as well as 24 V DC logic power supply
RS232 / CAN interface
2 TTL encoder inputs and outputs
2 TTL encoder inputs and outputs / BiSS-Renishaw
Motor connection
DC supply
SERVOLINK
Drive Functions and Safety Functions
Software for Initial Operation and Parameterization: drivemaster2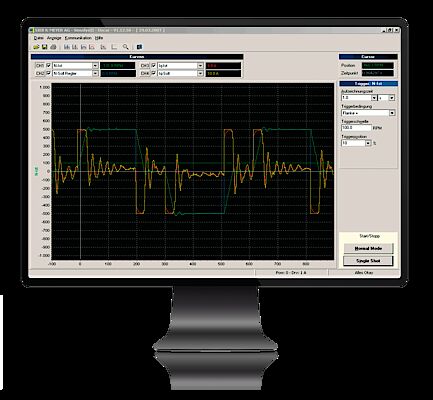 The oscilloscope function allows optimization of the axes in the machine via the drive-setup-tool without additional measuring equipment.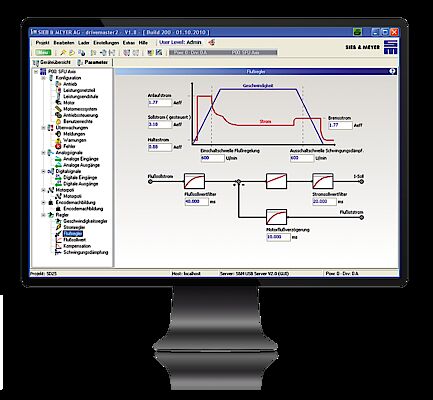 The clear design of the software allows intuitive parameterization via graphics and block diagrams. The "Parameter-Wizard" guides the user step-by-step through the system configuration and allows intuitive setup of the device via help messages and comments.
Technical Specifications of Frequency Converter SD2B plus
Device type
Rated power1)
Rated current
Peak current/time
Max. output voltage1)
HxWxD (mm)
Weight
Cooling
Device with housing (SD2B plus) - 1 x 24...48 VDC supply voltage
0362171DA1x 2)
740 VA
13 Arms
15.8 Arms/10 s
3 x 33 VAC
165 x 120 x 25
0.55 kg
Air
Device with housing (SD2B plus) - 1 x 24...80 VDC supply voltage
0362171DB1x 2)
940 VA
10 Arms
12 Arms/10 s
3 x 55 VAC
165 x 120 x 25
0.55 kg
Air

1) Rated power and max. output voltage for mains voltage/supply voltage (in italic)
2) NRTL/CSA certified