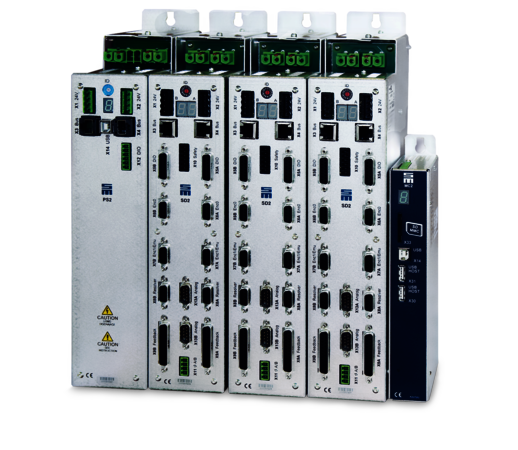 Complete Drive System for Scoring Applications
The machine control PCD36 is specially designed for the operation of modern scoring machines used for processing printed circuit boards. The drive package is a modular concept consisting of the motion controller MC2 und several servo amplifiers SD2. Depending on the used motors the assembly of the drive package is variable. A common power supply for all drive amplifiers makes the wiring easy. The energy of the braking axes is fed into the intermediate circuit which saves electricity.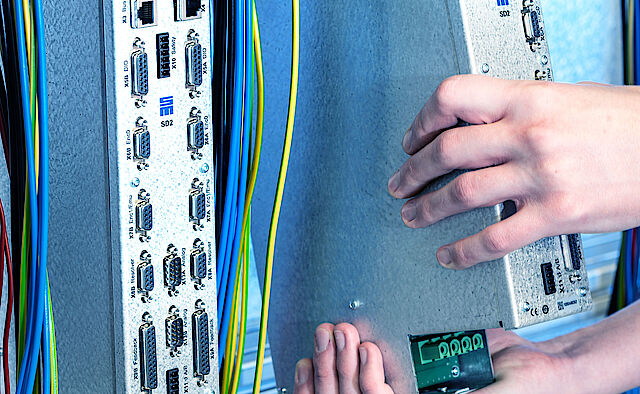 Motion Controller MC2
The drive amplifiers of the positioning axes and the scoring blades are controlled by MC2 via optical fibers. MC2 uses the real-time operating system Linux™/Xenomai. Additionally to the integrated I/Os further input and output modules can be connected. The application software SCORER runs on a standard PC and communicates with MC2 via Ethernet.
Drive Amplifier SD2
The power supply unit and the drive axes of series SD2 operating as digital servo amplifiers are parameterized with the software drivemaster2. The amplifiers are available as single-axis and double-axis devices with different power ranges and design sizes. Different interfaces enable the connection of rotary and linear motors with all common position measuring systems.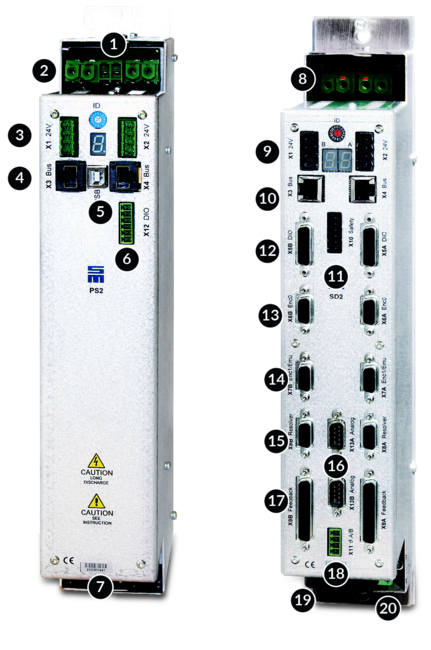 External ballast resistor
Output DC intermediate circuit voltage
24 V logic supply
Bus input and Bus output
USB connection
Digital inputs and outputs
Mains supply
Input DC intermediate circuit voltage
24 V logic supply
Parameterization and diagnosis
Safety Integrated: Restart lock to achieve category 4 according to EN 13849-1:2008-12, EN 62061:2008-04 and EN 61508:2002-11; Safety level SIL 3
6 digital inputs and 4 outputs each
Encoder inputs (pulse-direction signals)
Encoder outputs (measuring system simulation)
Resolver inputs
Analog reference value interfaces: +/-10 V
Universal Motor Encoder Interface: Resolver, encoder / Linear scale, (TTL or SinCos), EnDat, Hiperface, SSI, Hall effect sensor, linear Hall sensor, magnetoresistive sensors
Thermal contacts
2 x motor connection for linear motors and rotary motors
SERVOLINK 4 via optical fiber connector
Software for initial operation and parameterization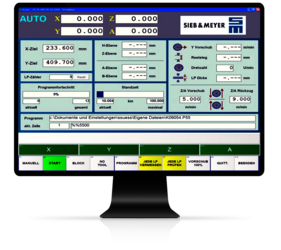 Application Software SCORER
The program SCORER provides a user interface optimized for scoring machines. Additionally to the necessary information for the execution of the scoring process the machine parameters that need to be changed during the execution are entered on the page "tools". This page is protected by password. The software supports camera measurement of the circuit boards as well as bar code and drill code reader. This way fully automatic operation day and night at highest production precision is guaranteed.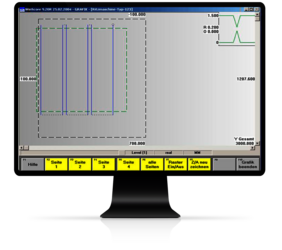 Application Software WINSCORE
Scoring programs can be created with graphic support using the WINSCORE software. Alternatively, programs are loaded from the CAD server via DNC.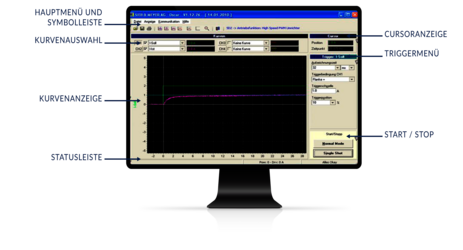 Software drivemaster2
The parameterization and optimization of the drive axes with the software drivemaster2 makes the initial operation of the machine comfortable for the machine manufacturer. Integrated tools for diagnosis and optimization reduce and speed up the necessary work at the machine.
Technical Specifications PCD36
Main features of PCD36
Complete controller for a scoring machine including:
Motion Controller MC2
Power supply for drive axes
Servo amplifiers
I/Os
Motion Controller MC2
Axis processor with real-time operating system
Ethernet connection
SERVOLINK – Optical fiber connection to the servo amplifiers
Internal digital inputs and outputs
IO LINK – Optical fiber connection to additional inputs and outputs
SD card memory

Digital Servo Amplifiers SD2
Integrated safety level SIL 3
Digital inputs and outputs
Evaluation of two measuring systems per amplifier
Measuring system output
Measuring systems:

Resolver
Rotary encoder TTL
Linear scale, Sin/Cos or TTL
SSI
Hiperface

Rated current: 10 Arms*
Peak current: up to 85 Arms *

I/O System
Integrated inputs and outputs
Expandable up to 128 inputs and 128 outputs via IO LINK (optical fibers)
External PLC or soft PLC possible
* Dependent on used module version
Measurements: Dependent on configuration