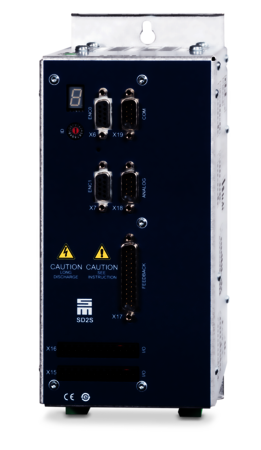 Powerful, flexible and compact – these words describe the drive amplifier SD2S by SIEB & MEYER. Using the available drive functions synchronous and asynchronous motors with speeds up to 480,000 rpm can be driven by SD2S, especially in respect of a low motor heating in high-turning motors with small rotor volume. Furthermore, small motor temperatures are the basis for a high machining quality.
FUNCTION • ADVANTAGE • BENEFIT
EXTENSIVE DRIVE FUNCTIONS
Function: Freely selectable drive functions, selectable drive functions SVC, V/f-PWM, HS-Block, Servo.

Advantage: The optimal drive function can be selected depending on the application requirements.

Benefit: Best system performance.
UNIVERSAL MOTOR ENCODER INTERFACE
Function: Resolver, encoder / linear scale (TTL or Sin/Cos), EnDat, Hiperface, SSI, Hall sensor, linear Hall sensor, magnetoresistive sensor, NAMUR sensor.

Advantage: High flexibility in the choice of the motor encoder interface.

Benefit: Low system costs, free choice of the motor manufacturer.
LOAD INDICATOR
Function: As standard SD2S offers a highly precise evaluation of the torque-forming current.

Advantage: The evaluation can be used for tool monitoring. These are for example detection of tool breakage, tool wear, gap eliminator (GAP and crash) and an optimal control of the feed rate during the manufacturing process.

Benefit: Low system costs, no need of cost-intensive monitoring sensors.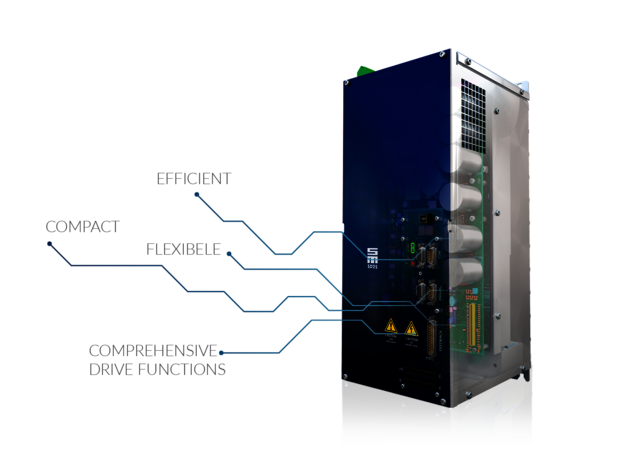 THE SPECIALIST FOR HIGH-SPEED APPLICATIONS
Depending on the application, the operation can be carried out with or without encoder. For the operation with an encoder SD2S offers the possibility to evaluate the common encoder systems existing on the market.
SD2S is connected to the higher-ranking control via analog reference values (+/-10 V), digital I/Os, RS232, USB, CAN bus, PROFIBUS*, PROFINET* or EtherCAT (CoE)**.
* Via gateway
**CoE=CAN over EtherCAT
EASY BUT ROBUST
Additionally to the basic characteristics in respect of a low motor heating SD2S offers two drive functions characterized by an easy parameterization and a robust operation for applications up to 120,000 rpm. For asynchronous motors the drive function V/f-PWM is used. By means of the V/f characteristic curve the user can carry out the graphically aided parameterization of the motor. As using the V/f characteristic curve is an established form of motor parameterization for example in grinding applications, the user can take advantage of the experience gained in this field.
The SVC drive function (Sensorless Vector Control) is provided for synchronous motors and is based on the equivalent circuit diagram usually found in the motor data sheet. SVC allows 4-quadrant operation of high speed synchronous motors and generators so that SD2S can be used for high speed applications such as turbo blowers or turbines for utilization of process energy.
Safety integrated "STO":
Restart lock to meet category 4/PL e according to EN ISO 13849-1:2015 and EN 61508:2010 SIL3
USB connection, parameterization, diagnosis and operation
2 TTL encoder inputs and outputs
RS232 / CAN interface
2 TTL encoder inputs and outputs
2 analog reference value interfaces: +/-10 V;
2 analog outputs: 0-10 V
Universal motor encoder interface:
Hall sensor, linear Hall sensor, magnetoresistive sensor, NAMUR Sensor (pulse generator), Sin/Cos encoder, resolver
9 digital inputs and 5 digital outputs
SERVOLINK 4 via fiber optic PROFIBUS adapter
Power supply
Motor connection
PROFIBUS and PROFINET via gateway
Optional: EtherCAT (CoE)
DRIVE FUNCTIONS AND SAFETY FUNCTIONS