The drive system SD2 is designed to control synchronous and asynchronous motors with or without a sensor and permits quick and easy adaptation to the individual case of application – whether used with linear motors, rotary motors or motor-driven machining spindles.
This universal drive solution allows realization of high-speed applications up to 360,000 rpm (6,000 Hz). Universal motor encoder interfaces and different connection possibilities to a higher-ranking control allow easy adaptation to changing system requirements – nothing will stand in the way of the optimal realization of multi-axis applications.
Multi-Axis System
Function: The SD2 single and double drive amplifiers can be supplied by a common power supply unit
.
Advantage: The DC voltage coupling allows recovering energy: The energy produced by the braking axes can be used by the driving axes. Depending on the system performance mains supply for up to 12 axis modules can be realized.

Benefit: Low wiring and energy costs.
Load Indicator
Function: SD2 offers a high-precision evaluation of the torque generating current by default.

Advantage: The evaluation can be used for tool monitoring. These are for example detection of tool breakage, tool wear, gap eliminator (GAP and crash) and an optimal control of the feed rate during the manufacturing process.

Benefit: Lower system costs, no need for cost-intensive monitoring sensors.
Safety Integrated
Function: "Safe Torque Off" (STO) is integrated as standard in the device. The sensorless functions "Safe Frequency Monitor" (SFM) and "Safe Limited Output Frequency (SLOF) are available as options.

Advantage: No need of external safety components while safety standards are met.

Benefit: Minimization of system costs and higher machine availability.
The Team Player
As a standard all devices of series SD2 are equipped with "Safe Torque Off" (STO). The sensorless safety functions "Safe Frequency Monitor" (SFM) and "Safe Limited Output Frequency" (SLOF) are available as option.
This is a great benefit to allow compliance with the requirements of the Machinery Directive.
Safety Functions SFM and SLOF for Systems Without Sensors
SIEB & MEYER now offers customers two new safety functions especially developed for the operation of rotary motors without speed sensors: Safe Frequency Monitor (SFM) and Safe Limited Output Frequency (SLOF).
In the field of processing machines and machine tools the demands regarding efficiency but also personal safety increase continuously. The machine manufacturer faces the challenge of implementing both demands optimally as well as in compliance with the relevant standards at the same time.
Especially machines with rotating axes involve risks for operators and service technicians due to tools still rotating or rotating at too high speeds. To avoid or notice such operating states the classic safety solutions rely on motors/spindles that come with safe speed sensors.
However, in many fields of applications, for example high-speed cutting or grinding, the motors/spindles cannot be equipped with appropriate speed sensors for technical or financial reasons. Therefore, the machine manufacturer would have to accept lower efficiency of the machines or implement costly safety concepts for each individual application to ensure the according safety integrity level.
With the two sensorless safety functions SFM and SLOF integrated in SD2 SIEB & MEYER provides an optimal and cost-effective solution for the safe operation of spindles and motors without speed sensors. Both functions are based on the function Safe Torque Off (STO) that is integrated in all SD2 drive amplifiers as standard.
The functions SFM and SLOF were approved by TÜV Nord according to EN 61508:2010 and meet the requirements of safety integrity level SIL3.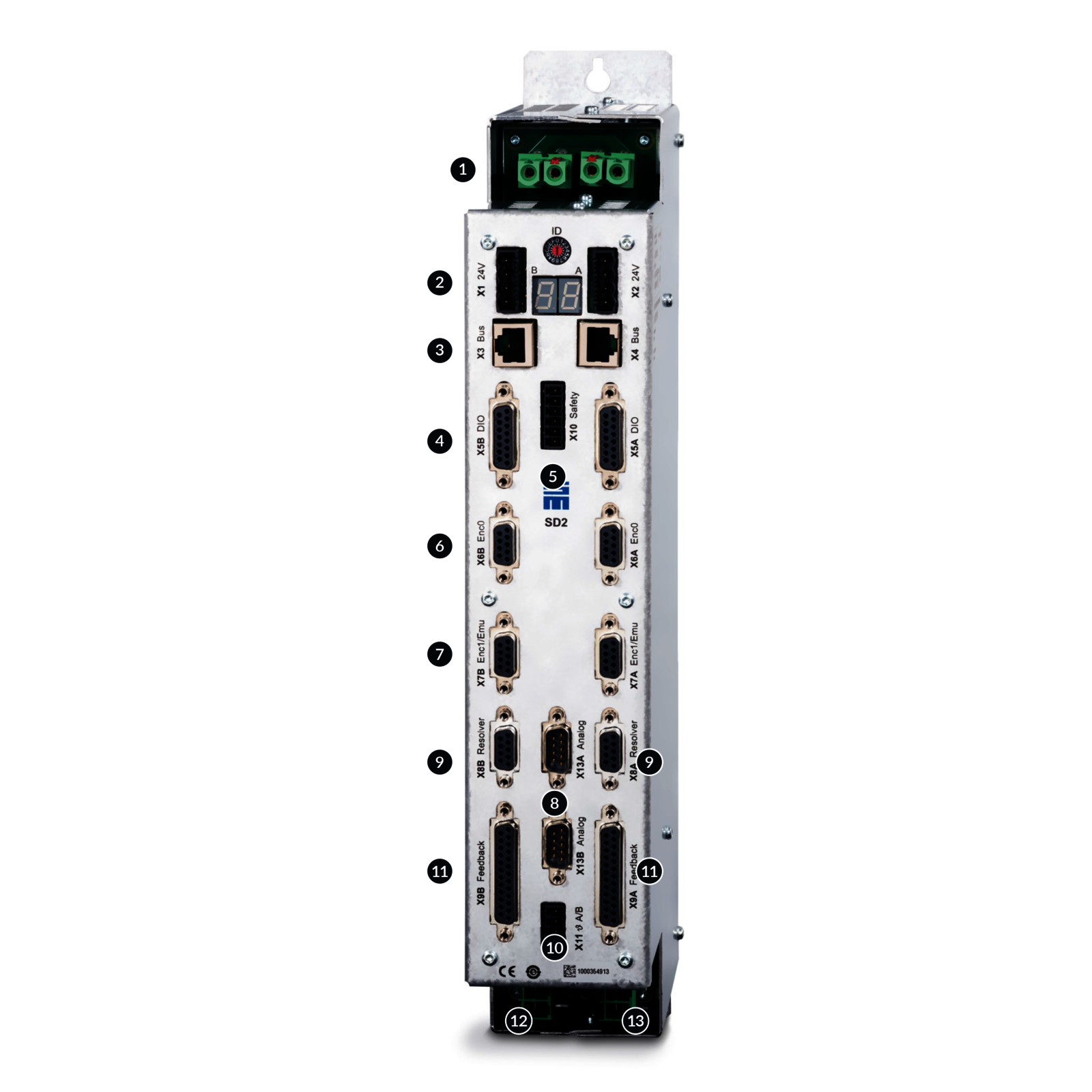 The Interfaces of SD2 (Two-channel Device)
Mains supply (DC)
24 V-Logic supply
Parameterization and diagnosis
6 digital inputs and 4 digital outputs
Safety integrated "STO": Restart lock to meet category 4/PL e according to EN ISO 13849-1:2015 and EN 61508:2010 SIL3
Encoder inputs and outputs (Puls-direction signals)
Encoder inputs and outputs (measuring system simulation)
Analog reference value interfaces: +/-10 V
Resolver inputs
Thermal contacts
Universal motor encoder interface: Encoder / linear scale(TTL or Sin/Cos), EnDat, Hiperface, SSI, Hall effect sensor, linearer Hall sensor, magnetoresistive sensor
SERVOLINK 4 via optical fiber connector
2 x Motor connection for synchronous / asynchronous spindles, linear motors and rotary motors

EtherCAT, PROFIBUS and PROFINET via gateway
Drive Functions and Safety Functions
Software for Initial Operation and Parameterization: drivemaster2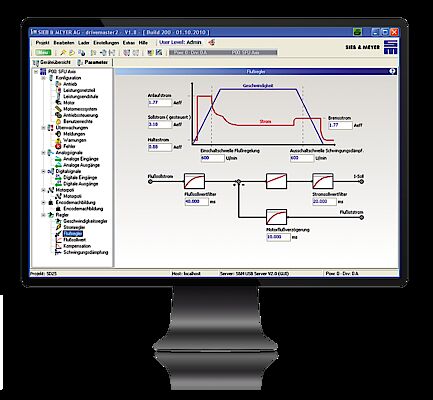 Parameterization
Tree-type structure
Block diagrams
Graphics
Interactive help messages
Comments
"Parameter-Wizard"
Saving and reloading of projects, parameter files and motor parameters
Centralized access to all axes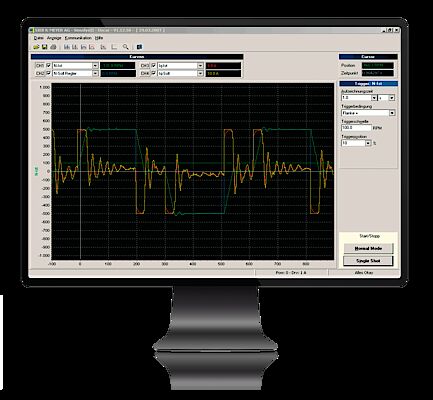 Diagnosis
4-channel oscilloscope
Zoom functions
Trigger functions
Long-term recording function
Measurements can be saved
Diagnosis of the inputs and outputs
Bus monitor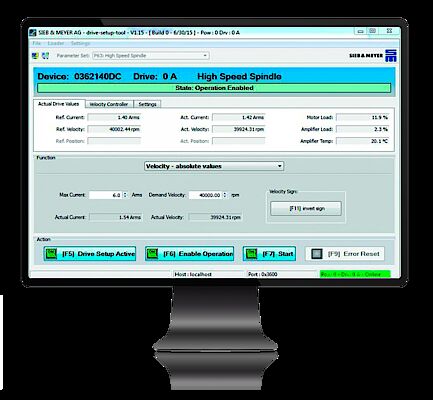 Operation
Without higher-ranking control
Visualized reference and actual values
Error and status messages
Technical Specifications SD2 with Integrated Heat Sink
Device type
Rated power1
Rated current
Peak current/time
Max. output voltage1
HxWxD (mm)
Weight
Cooling
Single drive amplifier - 325 VDC supply voltage
0362114DC
3.9 kVA
11.3 Arms
14.1 Arms/5 s
3 x 200 VAC
410 x 70 x 207
5.7 kg
Air
0362114EC
4.8 kVA
14 Arms
28.3 Arms/2 s
3 x 200 VAC
410 x 70 x 207
5.7 kg
Air
0362114IC
8.6 kVA
25 Arms
56.6 Arms/2 s
3 x 200 VAC
410 x 70 x 207
5.7 kg
Air
Single drive amplifier - 560...680 VDC supply voltage
0362114DF
8 kVA
11.3 Arms
14.1 Arms/5 s
3 x 410 VAC
410 x 70 x 207
5.7 kg
Air
0362114EF
9.9 kVA
14 Arms
28.3 Arms/2 s
3 x 410 VAC
410 x 70 x 207
5.7 kg
Air
0362114IF
9.9 kVA
14 Arms
56.6 Arms/2 s
3 x 410 VAC
410 x 70 x 207
5.7 kg
Air
0362114MF
24.8 kVA
35 Arms
113 Arms/2 s
3 x 410 VAC
410 x 130 x 207
9.3 kg
Air
0362114NF
24.8 kVA
35 Arms
141 Arms/2 s
3 x 410 VAC
410 x 130 x 207
9.3 kg
Air
0362111OF
35.4 kVA
50 Arms
113 Arms/2 s
3 x 410 VAC
410 x 130 x 207
5.9 kg
Water
0362111RF
78 kVA
127 Arms
177 Arms/25 s
3 x 410 VAC
390 x 230 x 144
8.7 kg
Water
0362111SF
141 kVA
200 Arms
245 Arms/25 s
3 x 410 VAC
410 x 230 x 180
11 kg
Water
Double drive amplifier - 325 VDC supply voltage
0362113DDC
3.5 kVA + 3.5 kVA
10 Arms + 10 Arms
14,1 Arms/5 s +
14.1 Arms/5 s
3 x 200 VAC
410 x 70 x 207
5.7 kg
Air
0362113EEC
3.5 kVA + 3.5 kVA
10 Arms + 10 Arms
28.3 Arms/2 s +
28.3 Arms/2 s
3 x 200 VAC
410 x 70 x 207
5.7 kg
Air
Double drive amplifier - 560...680 VDC supply voltage
0362113CCF
4.5 kVA + 4.5 kVA
6,4 Arms + 6,4 Arms
7,1 Arms/5 s +
7,1 Arms/5 s
3 x 410 VAC
249 x 70 x 232
5.7 kg
Air
0362113DDF
5 kVA + 5 kVA
7 Arms + 7 Arms
14,1 Arms/5 s +
14,1 Arms/5 s
3 x 410 VAC
249 x 70 x 232
5.7 kg
Air
0362113EEF
5 kVA + 5 kVA
7 Arms + 7 Arms
28,3 Arms/2 s +
28,3 Arms/2 s
3 x 410 VAC
249 x 70 x 232
5.7 kg
Air
Double compact devices - (1)3 x 110...230 VDC mains voltage
0362131DDC
6.4 kVA
11 Arms + 11 Arms
14 Arms/5 s +
14 Arms/5 s
3 x 200 VAC
410 x 100 x 207
7.5 kg
Air
0362131SSC
6.4 kVA
11 Arms + 11 Arms
42 Arms/1 s +
42 Arms/1 s
3 x 200 VAC
410 x 100 x 207
7.5 kg
Air

1) Rated power and max. output voltage for mains voltage/supply voltage (in italic)
SD2 with Integrated Heat Sink
Device type
Rated power1
Rated current
Peak current/time
Max. output voltage1
HxWxD (mm)
Weight
Cooling
Double compact devices - 3 x 400...480 VDC mains voltage
362131DDF
11.2 kVA
7 Arms+ 7 Arms
42 Arms/1 s +
42 Arms/1 s
3 x 410 VAC
410 x 100 x 207
7.5 kg
Air
0362131SSF
11.2 kVA
7 Arms+ 7 Arms
42 Arms/1 s +
42 Arms/1 s
3 x 410 VAC
410 x 100 x 207
7.5 kg
Air
Technical Specifications of PS2 Power Supply Unit with Integrated Heat Sink
Device type
Rated power1
HxWxD (mm)
Weight
Cooling
Power supply unit - 3 x 110...480 VAC mains voltage
0362191F
27 kW
410 x 70 x 207
5.8 kg
Air
0362193F
72 kW
410 x 160 x 207
9.35 kg
Air

1) Rated power and max. output voltage for mains voltage/supply voltage (in italic)
Technical Specifications of SD2 with Integrated Heat Sink and Safety Functions SFM/SLOF
Device type
Rated power1
Rated current
Peak current/time
Max. output voltage1
HxWxD (mm)
Weight
Cooling
Single drive amplifier - 325 VDC supply voltage
0362314DC
3.9 kVA
11.3 Arms
14.1 Arms/5 s
3 x 200 VAC
410 x 70 x 209
5.7 kg
Air
0362314EC
4.8 kVA
14 Arms
28.3 Arms/2 s
3 x 200 VAC
410 x 70 x 209
5.7 kg
Air
Single drive amplifier - 560...680 VDC supply voltage
0362314DF
8 kVA
11.3 Arms
14.1 Arms/5 s
3 x 410 VAC
410 x 70 x 209
5.7 kg
Air
0362314EF
14.2 kVA
20 Arms
28.3 Arms/2 s
3 x 410 VAC
410 x 70 x 209
5.7 kg
Air
0362314QF
30 kVA
42 Arms
85 Arms/2 s
3 x 410 VAC
415 x 135 x 218
7.0 kg
Air
0362316IF
20 kVA
28.3 Arms
56.6 Arms/2 s
3 x 410 VAC
410 x 103 x 209
6.5 kg
Air
Double drive amplifier - 325 VDC supply voltage
0362313DDC
3.5 kVA + 3.5 kVA
10 Arms + 10 Arms
14 Arms/5 s +
14 Arms/5 s
3 x 200 VAC
410 x 70 x 207
5.7 kg
Air
0362313EEC
3.5 kVA + 3.5 kVA
10 Arms + 10 Arms
28.3 Arms/2 s +
28.3 Arms/2 s
3 x 200 VAC
410 x 70 x 207
5.7 kg
Air
Double drive amplifier - 560...680 VDC supply voltage
0362313CCF
4.5 kVA + 4.5 kVA
6.4 Arms + 6.4 Arms
7.1 Arms/5 s +
7.1 Arms/5 s
3 x 410 VAC
410 x 70 x 207
5. 7 kg
Air
0362313DDF
6.4 kVA + 6.4 kVA
9 Arms + 9 Arms
14 Arms/5 s +
14 Arms/5 s
3 x 410 VAC
410 x 70 x 207
5.7 kg
Air
Single compact devices - (1)3 x 110...230 VDC mains voltage
0362333EC
2.5 kVA (7.9 kVA2)
20 Arms
28 Arms/2 s
3 x 200 VAC
410 x 100 x 207
7.0 kg
Air
Single compact devices - 3 x 400...480 VDC mains voltage
0362333DF
6 kVA
7 Arms
14 Arms/5 s
3 x 410 VAC
410 x 100 x 207
7.0 kg
Air
1) Rated power and max. output voltage for mains voltage/supply voltage (in italic)
2) Output power at three-phase mains
SD2 for Cold-plate Mounting
Device type
Rated power1
Rated current
Peak current/time
Max. output voltage1
HxWxD (mm)
Weight
Cooling
Single drive amplifier - 325 VDC supply voltage
0362111DC
3.8 kVA
11 Arms
14 Arms/5 s
3 x 200 VAC
410 x 70 x 134
3 kg
Cold-Plate
0362111EC
4.8 kVA
14 Arms
28 Arms/2 s
3 x 200 VAC
410 x 70 x 134
3 kg
Cold-Plate
0362111IC
9.7 kVA
28 Arms
56 Arms/2 s
3 x 200 VAC
410 x 70 x 134
3 kg
Cold-Plate
Single drive amplifier - 680 VDC supply voltage
0362111DF
7.8 kVA
11 Arms
14 Arms/5 s
3 x 410 VAC
410 x 70 x 134
3 kg
Cold-Plate
0362111EF
7.8 kVA
11 Arms
28 Arms/2 s
3 x 410 VAC
410 x 70 x 134
3 kg
Cold-Plate
0362111IF
11.4 kVA
16 Arms
56 Arms/1 s
3 x 410 VAC
410 x 70 x 134
3 kg
Cold-Plate
0362111MF
24.8 kVA
35 Arms
113 Arms/2 s
3 x 410 VAC
410 x 130 x 134
9 kg
Cold-Plate
0362111NF
24.8 kVA
35 v
141 Arms/2 s
3 x 410 VAC
410 x 130 x 134
9 kg
Cold-Plate
Double drive amplifier - 325 VDC supply voltage
0362110DDC
3.8 kVA + 3.8 kVA
11 Arms + 11 Arms
14 Arms/5 s +
14 Arms/5 s
3 x 200 VAC
410 x 70 x 134
3 kg
Cold-Plate
0362110EEC
4.8 kVA + 4.8 kVA
14 Arms + 14 Arms
28 Arms/2 s +
28 Arms/2 s
3 x 200 VAC
410 x 70 x 134
3 kg
Cold-Plate
Double drive amplifier - 680 VDC supply voltage
0362110DDF
7.8 kVA + 7.8 kVA
11 Arms + 11 Arms
14 Arms/5 s +
14 Arms/5 s
3 x 410 VAC
410 x 70 x 134
3 kg
Cold-Plate
0362110EEF
7.8 kVA + 7.8 kVA
11 Arms + 11 Arms
28 Arms/5 s +
28 Arms/5 s
3 x 410 VAC
410 x 70 x 134
3 kg
Cold-Plate
Double compact devices - (1)3 x 110...230 VDC mains voltage
0362130DDC
6.4 kVA
11 Arms + 11 Arms
14 Arms/5 s +
14 Arms/5 s
3 x 200 VAC
410 x 100 x 207
7.5 kg
Cold-Plate
0362130SSC
6.4 kVA
11 Arms + 11 Arms
42 Arms/1 s +
42 Arms/1 s
3 x 200 VAC
410 x 100 x 207
7.5 kg
Cold-Plate
Double compact devices - 3 x 400...480 VDC mains voltage
0362130DDF
11.2 kVA
7 Arms + 7 Arms
14 Arms/5 s +
14 Arms/5 s
3 x 410 VAC
410 x 100 x 207
7.5 kg
Cold-Plate
0362130SSF
11.2 kVA
7 Arms + 7 Arms
42 Arms/1 s +
42 Arms/1 s
3 x 410 VAC
410 x 100 x 207
7.5 kg
Cold-Plate
1) Rated power and max. output voltage for mains voltage/supply voltage (in italic)
Technical Specifications of PS2 Power Supply Unit for Cold-plate Mounting
| Device type | Rated power1 | HxWxD (mm) | Weight | Cooling |
| --- | --- | --- | --- | --- |
| 0362190F | 27 kW | 410 x 70 x 134 | 3.1 kg | Cold-Plate |

1) Rated power and max. output voltage for mains voltage/supply voltage (in italic)