Quick and Precise Tightening Processes
Technical papers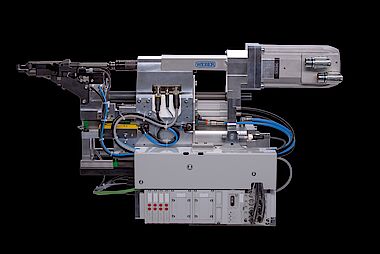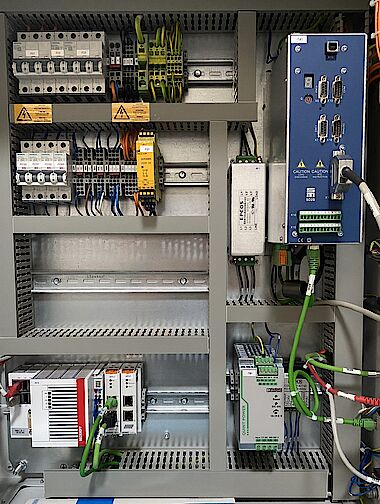 SD2S in switch cabinet at WEBER
Long-standing Partnership between SIEB & MEYER and WEBER
The robot-aided screw tightening systems by WEBER are in demand around the globe. Therefore, the advanced machines employ servo amplifiers, which support a great variety of motor types and comply with international standards and conventions. SD2S by SIEB & MEYER meets these requirements and more: The servo amplifier also features a small construction size and a high surge current capability. Besides, switching to an SD2S model with integrated EtherCAT slave fieldbus interface saved WEBER costs while improving the performance.
For more than 25 years now, the WEBER Group has been trusting in servo amplifier by SIEB & MEYER AG from Lueneburg. "Our tightening systems have been equipped with various controller generations," agreed Christian Schönig, Head of Development at WEBER. "At first with analog devices, later with digital models. Both sides have continuously developed the technology, which has always perfectly complemented one another." WEBER develops, manufactures and sells 'technology that connects': The systems by the medium-sized family business take over tightening, connecting, feed-in and control tasks – reliable and highly efficient. About 400 employees make sure that more than 1,000 machines and systems leave the production facilities each year – and from Wolfratshausen, the company headquarters in Upper Bavaria, they conquer the whole world. Since the forward-thinking technology by WEBER is in global demand, the company keeps production facilities and sales offices in Germany, France, the USA, Italy, the Czech Republic and China.
Screw connections with high tightening and loosening torques
The robot-aided tightening system RSF by WEBER is designed for flow drilling screw connections. This system is popular in the car body construction in particular because composite construction and one-sided accessibility of joints make machining more difficult in that industry. The RSF technique ensures high-strength connections with one joining process. Screw connections can be made with or without pre-holes, which compensates for material variations and manufacturing tolerances. Another advantage: The connections are not permanent. For this purpose, a metric thread is formed directly into the items to be connected. This makes disassembly possible at all times, which is particularly advantageous with regard to repair works or recycling of materials.
Screw tightening with high speeds – but still gently
The models RSF25 (see picture below), RSF30 and RSF21 use the servo amplifier SD2S to drive the motor of the screw tightening spindle. Hereby, the screw must be tightened with much 'feeling' to ensure exactly the tightening torque necessary for the respective screw connection. In addition, high speeds are important for quick tightening of the screws. "For flow drilling screw connections, high speed is actually a requirement," explained Christian Schönig. "High speed generates heat at the screw-in point so that the screw can penetrate the sheet metal in the first place." SD2S by SIEB & MEYER easily provides the required speeds of more than 20000 rpm – as well as all other requirements: The servo amplifier provides a power supply of 3x400 V to 3x480 V especially for international applications and comes with NRTL certificate (C/US certificate for US and Canadian market). In spite of the high surge current capability, SD2S is a very compact device.
SIEB & MEYER made a few customized adaptations for WEBER, though: SD2S allows docking and undocking the tightening tool from the robot hand, for example. "That means, the motor can be disconnected from the controller," said Christian Schönig. "After docking, the system is ready for operation within few seconds." In addition, control of the digital inputs and outputs of SD2S via EtherCAT was implemented. For this purpose, the standard interfaces provided by SD2S could be used. Additional output hardware was not necessary.

Real-time control with EtherCAT
Speaking of EtherCAT: WEBER has been using the SD2S with integrated EtherCAT slave fieldbus interface for several years now. This model was launched by SIEB & MEYER in 2015 – and with good reason: "EtherCAT is characterized by an outstanding performance enabling new control concepts that are technically not feasible with classic fieldbus systems or analog +/-10 V interfaces, which are still widely used," explained Ralph Sawallisch, Key Account Manager Drive Electronics at SIEB & MEYER. "Among the Ethernet based real-time fieldbus systems, the EtherCAT protocol has rightly become a fixture in the field of automation engineering." In order to enable easy implementation based on established communication and device profiles the CANopen profile CiA 402 was implemented. For WEBER using the new model resulted in financial benefits. "On account of the EtherCAT connection our wiring costs per tightening system are reduced by about 100 Euro," said Christian Schönig.
"In addition, the signal transmission is interference-free without offset and noise." Furthermore, Weber can transmit additional status values now and the depth of diagnostics in case of a drive problem is much improved.
A cooperation at eye level
The continuous technical development runs like a thread through the cooperation of the two partners. At present, SIEB & MEYER is working on a device series based on the new development platform SD4x that is future-proof in every way. The devices support new interfaces and offer a number of additional functions. Users benefit from optimized performance, higher speeds as well as lower motor heating without sine-wave filters. "The enhancements allow improving the production quality for existing applications and, beyond that, exploring completely new fields of application," Ralph Sawallisch pointed out.
Christian Schönig can definitely envision switching to a device of the SD4x series in the future. "SIEB & MEYER is again developing a solution that is technically superior to competitors. One interesting aspect for us is the fact that these devices will support additional bus control methods." The head of development is not afraid of any 'teething troubles' of the new servo amplifiers: "The SIEB & MEYER support has always been excellent, technical requests are answered within no time. The contact persons know our area of application well and we can communicate openly and at eye level." Since the product price is also right, WEBER will continue to trust in the expertise of SIEB & MEYER – it's going to be interesting, how many more development steps the long-time partners will go together.