Cool and Fast
Technical papers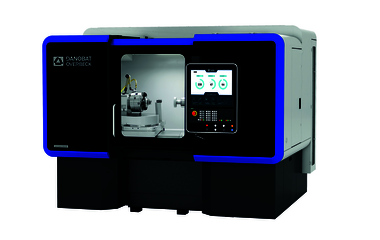 Grinding machine IRD-400 by Danobat-Overbeck
A New Drive System for Advanced Grinding Machines
Grinding applications make especially high demands on the drive system because the high speeds are often coupled with unwanted motor heating. This is not the case with SIEB & MEYER solutions. For this reason, the company DANOBAT-OVERBECK has been using SIEB & MEYER products in their grinding machines for many years. To benefit from other advantages, for example integrated sensorless safety functions, the company recently switched to the multi-axis drive system SD2.
DANOBAT-OVERBECK is a global market leader in the field of high-speed CBN grinding machines. The company develops and delivers ready-for-use overall solutions as well as single machines for high-tech industries and customers with the highest technological requirements. Grinding machines by DANOBAT-OVERBECK are individually adaptable to specific requirements – no matter for what industry.
IRD: internal, external and radius grinding machines
The product range includes, for example, machines of the IRD series. They are designed for internal, external and face grinding applications as well as for non-round and radius grinding of various materials (e.g. carbide, steel and ceramics). The integrated swiveling axis (B0) with the configuration +91º/-15º in combination with the X-axis and the Z-axis (3-axis interpolation) enables grinding of different radii and contours with excellent surface quality.
"Thanks to its flexibility, this grinding machine can not only grind forming tools and dies," explained Alexej Voigt, electrical designer at DANOBAT-OVERBECK GmbH. "It is also suited to machining work pieces for various industries, such as bearings, ball valves, implants and many more." Four grinding spindles can process work pieces with a length of up to 400 mm; the maximum internal grinding diameter is 200 mm.
Switching to a new drive system
Recently, the series IRD-400 was changed: the machines now use the drive system SD2 by SIEB & MEYER. Previously, DANOBAT-OVERBECK had used the drive amplifier SD2S. This device is to be gradually replaced with the SD2 system in all machines – IRD-400 is the first series. "There are many reasons for this replacement," explained Alexej Voigt. For the operation with a lower basic speed, the company previously installed an external converter in the switch cabinet. The integration of a modular axis compound like the multi-axis system SD2 reduces the wiring work. "Other interesting features for us are the integrated safety functions and the control via PROFINET." Up to now DANOBAT-OVERBECK used an external standstill monitoring, which is no longer required on account of the safety function SFM (Safe Frequency Monitor) integrated in the SD2 system. Furthermore, the control via PROFINET allows recording and reading application-specific data. This makes monitoring the process values easier and errors can be detected more quickly.
SD2 – a universal drive solution with integrated safety functions
The drive system SD2 is designed to control synchronous and asynchronous motors with or without a sensor and permits quick and easy adaptation to the individual case of application – whether used for linear motors, rotary motors or machining spindles in routing or grinding applications.
With this universal drive solution, manufacturers can realize high-speed applications up to 360,000 rpm (6,000 Hz). Universal motor encoder interfaces and different connection possibilities to a higher-ranking control allow easy adaptation to changing system requirements – paving the way to optimal implementation of multi-axis applications.
"Operational safety is getting more of a priority for many of our customers," said Markus Finselberger, key account manager drive technology at SIEB & MEYER. "For this reason, more and more of our customers use the sensorless safety functions integrated in the SD2 drive system. These safety functions are especially designed for rotary motors without speed sensor." The following sensorless functions are available: SFM (Safe Frequency Monitor) and SLOF (Safe Limited Output Frequency). With the safety function SFM, the operator can safely detect whether or not the speed of a sensorless spindle has reached standstill or dropped below a safe speed value. The safety function SLOF is used to make sure that critical speeds are not exceeded. Both safety functions are approved by TÜV Nord according to EN 61508:2010 and are based on the function Safe Torque Off (STO), which is also integrated as standard. The result is a functional and low-cost solution for sensorless systems. Hence, it is not necessary to equip already existing or new spindles and motors with sensors to comply with the safety requirements in the Machinery Directive.
High speeds, low motor heating
"Generally, the operation of high speeds is the decisive factor for us," Alexej Voigt pointed out. "Standard frequency converters are quite limited regarding speed frequencies and therefore they are out of the question for us." In addition, the drive system in DANOBAT-OVERBECK grinding machines must support a very dynamic change of spindles, motion sequences and machining steps. Frequent acceleration and deceleration processes pose another challenge for the devices.
The keyword 'motor heating' is very important. "Grinding applications have a special position in the field of machine tools", explained Markus Finselberger. "Internal grinding applications, for example, require sensorless operation of asynchronous and synchronous spindles up to 250,000 rpm. The motor heating, however, must be kept very low to ensure high machining quality and to keep the rotor losses as low as possible." Another important factor is the flexibility of the machine: simple and quick exchange of the grinding spindles is essential. For this purpose, the drive amplifier should allow storing several motor parameter sets. In addition, customers often demand special functions like a high-dynamic active load detection used e.g. for tool monitoring. This function is integrated in the SIEB & MEYER drive amplifiers as well, which makes additional components unnecessary.
SIEB & MEYER frequency converters meet these and other requirements of grinding applications – as Alexej Voigt confirmed: "We were already quite satisfied with SD2S and now we are happy to profit from the advantages of SD2 in the future." In the medium term, all grinding machines will be equipped with SD2 – SIEB & MEYER currently develops a more powerful module so that the SD2 system covers the whole range of grinding spindles used by DANOBAT-OVERBECK. During the replacement SIEB & MEYER will be on site for a flexible support. "The cooperation with SIEB & MEYER is always good and has proven successful again in this very process," concluded Alexej Voigt.