With SIEB & MEYER to a Customized Drive Solution
Press releases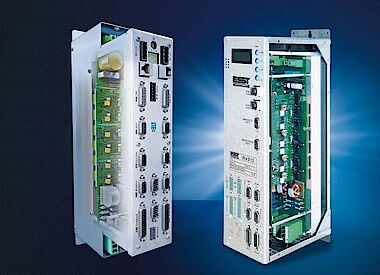 SIEB & MEYER at the SPS Connect
From simple hardware adjustments such as special types of housing or interfaces to completely new designed devices and features: SIEB & MEYER offers customized solutions in the field of high-speed frequency converters and servo amplifiers. Over 50 % of sales in the product range of drive technology is generated by customized projects. All process steps are realized in the company.
As soon as a customer requests a device that is not available in the standard portfolio, the internal process chain at SIEB & MEYER is triggered: From the first functional test to series production, all departments work in close coordination to realize the project. This guarantees the development of a product that is not only technically mature, but can also be produced optimally and at good conditions. "The customized solutions are based on our standard modules which are well-established on the market," said Torsten Blankenburg, CTO at SIEB & MEYER AG. "In addition, more than 50 years of experience and numerous customized drive systems produced in quantities of 50 to 10,000 pieces ensure this success."
That the customized solutions are convincing in use is also proven by "repeat offenders": Some years ago, SIEB & MEYER developed a high dynamic two-channel servo amplifier for EST GmbH for servo motoric tightening in the automotive industry - based on the SD2 drive system. The drive system with an individual front end is well established in controls for tightening and press applications. At present, however, EST has connected a new generation of handheld tightening tools, which required implementation of an Ethernet interface. Accordingly, the partners jointly developed the processor card further.
If you are interested in customized solutions and the standard product range please get in touch with SIEB & MEYER at the SPS Connect from November 24-26, 2020. The virtual platform of the SPS show in Nuremberg allows intense but secure exchange even during the Corona pandemic. New contacts can be established via the digital event tool and via the supplementary Connect App.