Three-level Frequency Converter SD4M
Press releases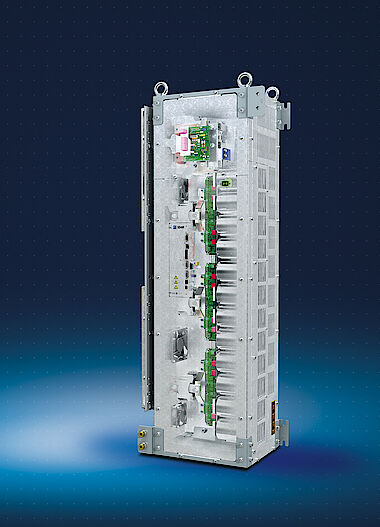 Ready for the Future with Three-level Technology
Compared to the predecessor SD2M, the frequency converter SD4M provides even higher gains with regard to functions and control technology: the main advantages are improvements to the control loop and the Ethernet-based bus systems. In addition, SD4M offers a control function for IPM motors.
Especially in the field of turbo compressors and turbo blowers, frequency converter SD4M is a true problem solver: On the one hand, these systems benefit from the low motor heating combined with the high system efficiency. At a 24/7 full-load operation, the latter causes noticeable energy savings and short return on investment times. On the other hand, the overall system can be produced at lower costs and with a more compact construction volume because motor chokes and sine-wave filters are not necessary.
The new 32-bit processor is up to five times faster and therefore allows a higher resolution and more precise calculations. In addition, SIEB & MEYER uses the now available processor performance for new control functions. As a result, the devices can optimally operate synchronous motors with magnets embedded in the rotor, so-called interior permanent magnet motors (IPM).
Existing customers can continue to use SD2M – for new projects, though, switching to SD4M is quite easy: The power side is compatible with SD2M. Customers must only use a slightly different connector for the logic and consider a few minor differences.