Successful Product SD2M: SIEB & MEYER Builds New Production Hall / Warehouse
Press releases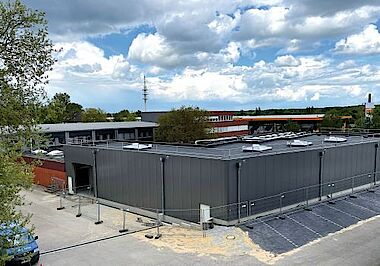 [Translate to Englisch:]
Expansion of production capacities
As the SD2M three-level frequency converter is in great demand and conquers new markets, SIEB & MEYER in Lueneburg, Germany, literally creates more space for the innovative solution. The first spadeful of earth has already been turned for the construction of a new production hall /warehouse with a floor space of approx. 450 sqm. With the enlargement of the building SIEB & MEYER creates the conditions to expand the production capacity of the product range SD2M. The new hall is scheduled to be in use at the beginning of 2021.
"With the step towards three-level technology and an increase in the power range up to 400kW, we laid the foundation for new business areas about five years ago", says Torsten Blankenburg, Chief Technical Officer of SIEB & MEYER AG. "We are pleased that our solution has been so well recognized by the market that it is now even necessary to expand our production capacities." Over the years, SIEB & MEYER has continuously expanded the SD2M converter product range, most recently mainly for applications in high-speed turbomachinery such as turbo blowers or compressors. However, the frequency converter is still the first choice for applications in machine tools or test benches, where it convinces with maximum performance in a small space, low system costs and high efficiency.
Currently, seven different versions of the SD2M are available in the range of 75 HP to 400 HP or 165 A to 630 A rated current - including both water-cooled and air-cooled models. Common to all of them is the innovative three-level technology which, in combination with switching frequencies up to 16 kHz, ensures very good current quality. This prevents excessive rotor heating and reduces bearing load and insulation stress and the use of expensive LC filters is no longer necessary.