New Frequency Converters with 400 VAC Supply Voltage
Press releases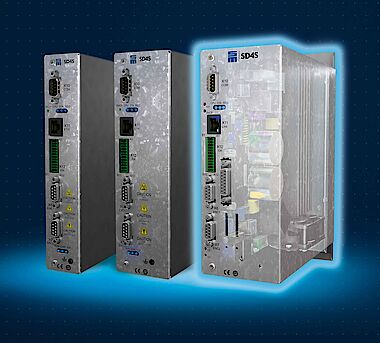 SD4S product series by SIEB & MEYER features new models and enhanced connectivity
SIEB & MEYER extended its SD4S product series by two 400 V device variants. With the two new frequency converters the user can choose between a model with 4 KW / 8 A or 6 KW / 12 A at a rated switching frequency of 16 kHz. With its small construction volume of only 3.6 l, the devices provide the highest performance in very small spaces.
The SD4S series continues the success of the SD2S variants and provides an even better processor performance for its customers. The new 32-bit processor is up to five times faster and therefore allows a higher resolution, more precise calculations and faster completion of complex tasks. For customers, this translates into a considerable performance increase. Higher switching frequencies and an enhanced control performance at even higher speeds lead to an optimized overall process.
The S in the type designation indicates the stand-alone variants. These are designed for stationary applications in switch cabinets used for machine tools, turbo blowers or compressors among others. Both new 400 V models with a width of only 80 mm are made for space-saving installations. The devices with a maximum switching frequency of 32 kHz are suitable for operating synchronous motors of up to 4,000 Hz (240,000 rpm) or asynchronous motors of up to 6,000 Hz (360,000 rpm).
Concurrently to extending the device variants, SIEB & MEYER enhanced the connectivity of the SD4x devices. Additionally to the Ethernet-based interfaces for communication such as EtherCAT, Modbus and Powerlink, PROFINET IO is from now on also available for the user.This also enhances the application possibilities in the field of machine tools.