Launch of the New SIEB & MEYER Website
Press releases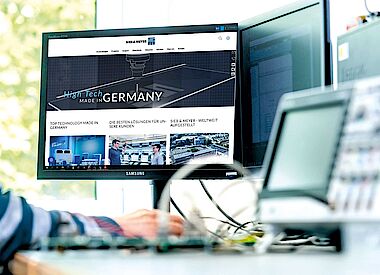 Modern, well-arranged and user-friendly – this is the new website of SIEB & MEYER. Among other things, the fresh layout and the simple navigation contribute to this. With a new application area and revised product pages, users can easily find their way around the content.
Depth of content combined with optimal user guidance
"Especially the new application area makes the new website more profound in terms of content," explained Torsten Blankenburg, CTO at SIEB & MEYER AG. "Here our customers get information on the products suitable for their respective industries and on the features that make these products unique in the market." The detailed presentation of the products including application examples and customization options also supports this. Users who need more assistance can contact SIEB & MEYER easier than before, for example directly from the product pages.
The website navigation is implemented as a so-called mega menu, where users see the available topics and sections at a glance. This makes long searches for the desired information unnecessary – everything is just a click away. "Generally, the redesign focuses on easier accessibility of the already very well prepared information," said Torsten Blankenburg. "All the features that have proven useful over the years will of course remain unchanged." One example is the comprehensive download area that allows searching for the available downloads also by entering the type plate of the respective SIEB & MEYER product. And of course, the website is also optimized for mobile devices and can easily be accessed via cell phones, tablets etc.
The SIEB & MEYER website is accessible via www.sieb-meyer.com.