High-speed Frequency Converters for Various Applications
Press releases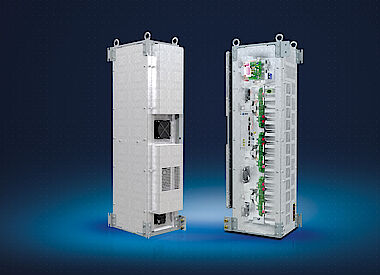 Frequency Converter SD4M
Individual drive solutions from Lueneburg
High-speed converters for stationary applications are a very special niche, which SIEB & MEYER covers with a wide range of products. The standard product range of the Lueneburg-based company provides a variety of models to meet the demands of various applications. However, customer-specific solutions are also possible.
"Our frequency converters are designed to drive motors with speeds of up to 480,000 rpm," said Torsten Blankenburg, CTO at SIEB & MEYER. "Here, the main focus is to keep the motor loss low during operation of these special motors, as they are thermally sensitive compared to standard motors." Additionally, a high system efficiency or a high process quality have to be guaranteed. "Over many years of intensive development we built up a portfolio that meets the demands of almost all applications in the high-speed sector," explained Torsten Blankenburg.

SIEB & MEYER offers converters with two-level PWM (pulse-width modulation) for stand-alone applications, such as SD2S or SD4S. These frequency converters drive for example machine tools with one or two spindles for grinding or routing. Frequency converters with three-level PWM are the latest state of the art that SIEB & MEYER added to its portfolio with SD2M and SD4M. These devices show their advantages in the field of turbo compressors and turbo blowers, for example.
SIEB & MEYER is happy to advise customers which converter is the best for their application. And if a special solution is required, the Lueneburg-based company can even help with that, since one particular focus is to provide customized solutions. The individual solutions often have great advantages for the customers and can solve constructional problems. The customized frequency converters are designed on the basis of standard components that are successfully established in the market. In addition, SIEB & MEYER looks back on more than 50 years of experience from many customized drive systems that are produced in series quantities between 50 and 10,000 pieces. Customer-specific projects comprise a significant portion of SIEB & MEYER's revenue in the field of drive technology.