Improved Magazine Change in CNC 9x.00 by SIEB & MEYER
CNC News
During production PCBs are likely to be fixed to the table, especially when it comes to routing. For this purpose, pin holes are drilled on a template which requires tools and pins for pinning. For machines equipped with the function "Automatic Pinning" the pins must be provided in the magazines. This requires different magazine cassettes for tools and pins in the tool change area.
The arrangement of the pods of a magazine cassette may vary due to the tools or pins and their diameters. Before magazine change at the CNC 9x.00 was only possible by loading new configurations. In order to simplify the process and flexibly exchange different magazine cassettes, SIEB & MEYER implemented a new solution.
The corresponding magazine cassettes can now be defined in the Configurator and placed in the tool change area.
If due to the number of or type of pins or tools an exchange must be carried out it can be easily done in the tool page "Magazines" via the function "Change Magazines". The function is enabled by the corresponding button.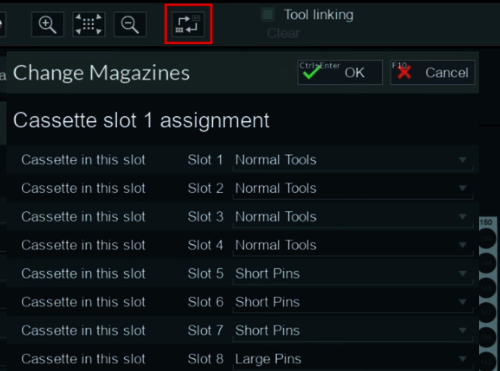 The benefit of the new function is the quick exchange of magazine cassettes in the CNC 9x.00. This comfortable solution provides a better overview and saves time during production.