The frequency converters of series SD2M convince by their maximum output, little need for space, reduced system costs and high efficiency. The devices are designed for complex automation tasks in high-speed applications and allow use of synchronous and asynchronous motors.
Sensorless applications as well as applications with speed sensor can be realized easily. The high-dynamic vector control combined with highest speeds offers a whole new range of applications.
Three-Level Technology
Function: The output stages of SD2M are based on a three-level technology and provide rotating field frequencies up to 2,000 Hz with switching frequencies of 16 kHz.

Advantage: Reduced motor losses combined with minimum efforts for motor filters and motor chokes as well as low interfering radiation and insulation stress.

Benefit: Low system costs over the whole product life cycle.
Efficiency
Function: The devices reach efficiencies of up to 98 %.

Advantage: The high efficiency of the devices ensures optimal system efficiencies and reduces cooling requirements.

Benefit: Lower energy costs at maximum system output.
DC Supply
Function: The SD2M devices with DC supply can be operated with active front-end power supply unit.

Advantage: Fast acceleration and deceleration processes at high energy efficiency.

Benefit: Low energy costs and highest productivity.
The Powerful One
SIEB & MEYER has developed the frequency converter SD2M using the three-level tehnology to significantly reduce PWM-related rotor losses.
Besides devices for 3-phase mains supply devices with DC supply are provided allowing to operate SD2M with a power supply unit capable of recovering energy. This way applications with a process-related repeated braking operation can take advantage of the benefits of the three-level technology.
The Interfaces of Frequency Converter SD2M
USB connection, parameterization, diagnosis and operation
2 TTL encoder inputs and outputs
RS232 / CAN interface / Modbus
2 analog reference value interfaces: +/-10 V,
2 analog outputs: 0 to 10 V
Universal Motor Encoder Interface: Hall sensor, linear Hall sensor, magnetoresistive sensor, NAMUR sensor (pulse generator), Sin/Cos encoder
9 digital inputs and 5 digital outputs
EtherCAT (CoE)
Safety integrated "STO": Restart lock to meet category 4/PL e according to EN ISO 13849-1:2015 and EN 61508:2010 SIL3
Liquid cooling
Motor connection
Brake chopper included in the variants with AC voltage supply
Power supply
Drive Functions and Safety Functions
Software for Initial Operation and Parameterization: drivemaster2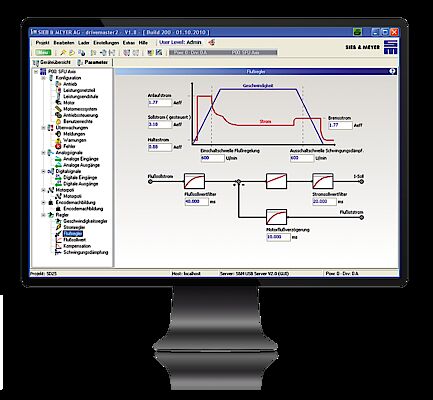 Parameterization
Tree-type structure
Block diagrams
Graphics
Interactive help messages
Comments
"Parameter-Wizard"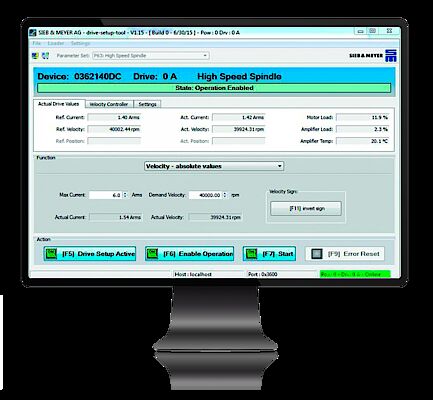 Operation
Without higher-ranking control
Visualized reference and actual values
Error and status messages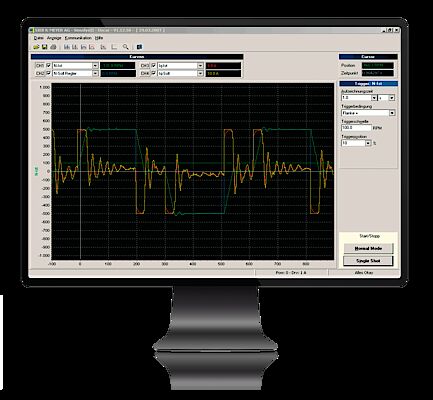 Diagnosis
4-channel oscilloscope
Zoom functions
Trigger functions
Long-term recording function
Measurements can be saved
Diagnosis of the inputs and outputs
Bus monitor
Technical Specifications of Frequency Converter SD2M with 3-phase AC Mains Voltage
Device type
Rated power1
Rated current
Peak current/time
Max. output voltage1
HxWxD (mm)
Weight
Cooling
Compact devices - 3 x 200...480 VAC mains voltage
0362280AF
150 kVA
212 Arms
265 Arms/60 s
3 x 410 VAC
757 x 392 x 280
55 kg
Water
0362281BF
300 kVA
424 Arms
530 Arms/60 s
3 x 410 VAC
1296 x 424 x 359
117 kg
Water
1) Rated power and max. output voltage for mains voltage/supply voltage (in italic)
Technical Specifications of Frequency Converter SD2M with DC Supply Voltage
Device type
Rated power1
Rated current
Peak current/time
Max. output voltage1
HxWxD (mm)
Weight
Cooling
Compact devides - 300...750 VAC supply voltage
0362282AF
183 kVA
212 Arms
265 Arms/60 s
3 x 500 VAC
757 x 392 x 280
47 kg
Water
0362283BF
432 kVA
500 Arms
530 Arms/60 s
3 x 500 VAC
1019 x 424 x 359
90 kg
Water
1) Rated power and max. output voltage for mains voltage/supply voltage (in italic)